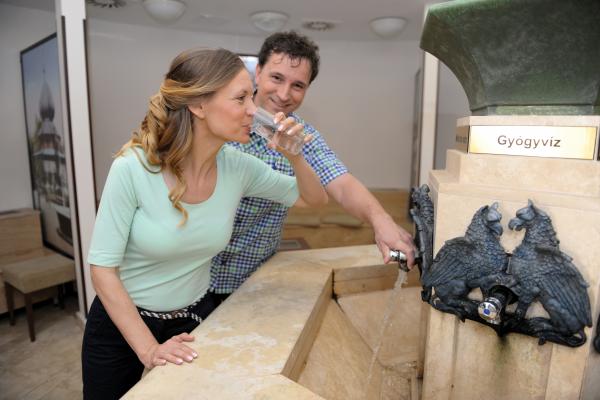 The consumption of medicinal water of Hévíz and its use for bathing enhances the medical bath therapy. The medicinal bath of Hévíz cannot be bottled due to its special compound (calcium, magnesium, hydrogen carbonate and Sulphur), it is recommended to consume the water in Hévíz.
The consumption of the medicinal water means that patients have to drink 2–3 dl of water during 2–3 weeks, 3 times a day 30 or 60 minutes before meals. It is recommended to drink the water slowly, during walks, to allow enough time for its absorption through the gastrointestinal system. Before this type of treatment, consultation with the treating physician is advised.
The medicinal water of Hévíz enhances bowel functions and the production of the stomach acid, which can be an effective cure for chronic inflammation of the bowels, constipation or hemorrhoids. In addition, the medicinal water can decrease bile and gall bladder problems, but it is also an effective treatment of respiratory diseases and can prevent the formation of kidney stones. Additionally, it can be recommended as supplement for diets, since its beneficial effect in decreasing blood glucose and cholesterol level might also be experienced.
Recommendations:
One single dose: 200-300 ml before meal
Drink medicinal water always at room temperature.
Do not drink medicinal water quickly. Drink it always slowly, just a small amount at a time.
Consult with your treating physician about the consumption of medicinal water.